COMPOSERS' CORNER
VOL. XXI

September, 2018
with Brett Abigaña
An Interview with Matthew Howe
Director of Bands
Cathedral City High School
(2019 Disney Hall Commission Winner)
| | |
| --- | --- |
| | |
| Matthew Howe | Brett Abigaña |
For this edition of Composers' Corner, I wanted to get the perspective of a high school music educator on some questions regarding contemporary music and composers, so I reached out to my dear friend Matthew Howe, Director of Bands at Cathedral City High School in Southern California. I have collaborated with him several times through the World Projects New Music Initiative, and I take every chance I can to pick his brain!
BA: You're obviously a friend of new music and you pass that on to your students. What do you hope they gain from the experience of working with a composer?
MH: In a word: Inspiration! I cannot think of a more enriching activity for a young high school or middle school musician to experience than directly collaborating with the composer of a new work for wind band. There is a special bond that can be created between the student and the music when they have some sort of personal connection to the person that wrote it. And with the way we communicate today through platforms such as Skype or Google Hangouts, it is really simple for composers to have meaningful interactions with students, even if they are not even on the same side of the planet! I know that when we have had sessions with you, Brett, via Skype, the kids leave the band room feeling excited to have heard your perspective, and they can't wait to dive in to the music more. Then when they meet you in person, it's like meeting a rock star!
BA: What do you wish composers knew about conductors and vice versa?
MH: I wish that more composers knew that there are many of us in the public school sector that are very interested in programming adventurous, thought-provoking literature that does not need to be formulaic, watered down, or otherwise artistically compromised in order to "fit the bill" of a school music program. There is too much "fluff" out there in the wind band world! I think we can agree that this kind of music is not artistically enriching or inspiring to anyone involved, least of all to the students who we are trying to inspire. We want our kids to be artists! And here is what I would want my fellow conductors to know- there are lots of great composers out there right now that are writing that kind of music! You just need to do your homework to find music that works for your band. Right now, my band program is involved in 2 separate commissions for new pieces, one by Adam Schoenberg and one by Giovanni Santos. The music they are producing right now is fantastic! I'm honored that we can be part of the process.
BA: What do you think the musical world in general needs from composers, and why?
MH: We need good music! We need music that inspires us, that moves us, that makes us want to perform it. One of my favorite composers, David Maslanka, said that if a conductor does not love the music he or she is conducting, then there is no way the students will love it or play it with any kind of conviction or enthusiasm. So, just like our students need to be inspired, so do we! I love that feeling of hearing a great new piece of music, and feeling that energy that makes me want to study it and find out more about what it's all about. I would hope that composers would be interested in writing music that made conductors (and the musicians!) react that way.
BA: What do you look for when you're investigating a new piece or composer you don't know? Is there a deciding factor that makes you think "That's the one I need to program!"?
MH: Well, I'm a percussionist, so I'm obviously biased, but a great new piece for me needs to have exciting percussion parts. There are so many opportunities for composers to create interesting colors and soundscapes with the percussion section, and it's usually one of the first things I look for. But perhaps the thing I look for, or rather feel for, first and foremost is a strong emotional reaction to the music. If the music makes me feel something, whether it's excitement, melancholy, suspense, or sheer terror, I'm hooked!
BA: To what extent do you think composers should or should not tap into popular forms, idioms, and genres in their music?
MH: I think modern composers would be doing us a disservice if they did not incorporate styles, genres, or idioms that they have been influenced by while developing as an artist. Look at 20 th Century composers like Stravinsky, Milhaud, or Shostakovich that were influenced by American Jazz! The thought that today's composers shouldn't be allowed to incorporate their own popular tastes or likes into their music out of some fear of being "pure" or "loyal" to the idiom is a little misguided, in my opinion. Take composer Alex Shapiro, for example. She is writing some really cool pieces that incorporate audio soundscapes, visual elements, and even found object instruments. Some of it can sound almost EDM, and you know what? It works! She is very imaginative and has great ideas.
BA: How would you encourage and support a young composer in your program, and what advice would you give them about trying to carve out a career in the field?
MH: If I had a student who expressed interest in composition, I think I would first try to put him or her in contact with a composer who is making a living writing music. I'm of the philosophy that if you have friends that can do something better than you, have them do it! The more opportunities we as music educators give our students to interact with these professionals, the better.
BA: What advice would you give a fellow music educator about collaborating with a composer for the first time?
MH: Setting up a line of collaborative dialogue is key. I think the conductor needs to know as much about the composer's influences, ideas, and preferences as does the composer about the band he or she is writing for. Obviously, as a conductor, you need to know the tendencies (I hate to use the term "strengths and weaknesses") of your band, and how the composer can best serve your students' needs and musical tastes. Also, don't be afraid to get detailed about what you want as the end product of your collaboration! The closer the composer/conductor relationship is, the better you will be serving your students, and the music will be taken to that next level!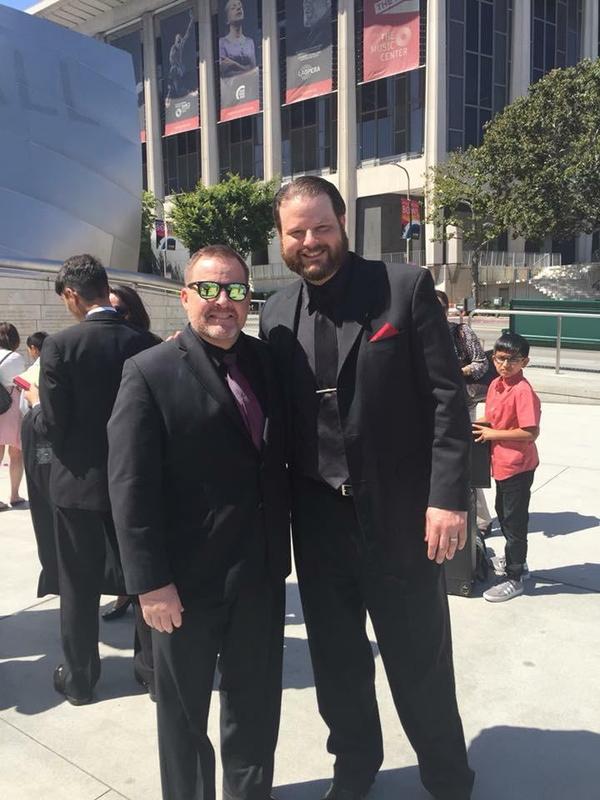 Matthew and I at Walt Disney Concert Hall (LAIMF 2018)
World Projects


601 First Street
Suite 200
Benicia, CA 94510

Phone: 707.556.5885
Toll Free: 800.922.3976
Fax: 707.556.5896
Contact Us